---
Over 13 percent of teen girls suffer from an eating disorder by the age of 20. It's not just girls either: disordered eating is almost as common in males as females and can extend long into adulthood. When we get right down to it, eating disorders are serious and people living with them have a higher risk of dying compared to same-aged peers. Still, disordered eating is often joked about and normalized in pop culture. This 'awards season', we're nominating moments from popular movies of the past that show just how common distorted ideas about bodies, diet and food are in our culture. We still love some of these classic comedies, but let's be careful to challenge unhealthy behaviors as we watch.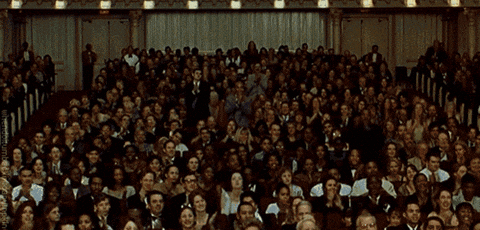 Unfortunately, some movie scenes can be quite triggering for folks with eating disorders and those in recovery. It's not uncommon to see detailed ED thoughts and behaviors in films that that are never challenged or paired with appropriate education. So, we've taken a few movie examples below and added important reminders and fact-checking opportunities.
It's possible to enjoy films while also thinking critically about their messaging. You might also want to actively decide whether to watch or not to watch before engaging with specific films that you know will normalize or showcase disordered eating.
First up on our #popcultureED tour is…
---
"THE DEVIL WEARS PRADA"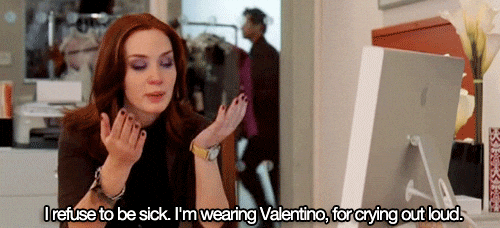 This movie, starring 2019 SAG awards winner Emily Blunt, reminds us that no goal is ever worth starving for. Emily Blunt's character frequently makes comments about her restrictive eating and undeniable pursuit of a thinner body.
Nourishing your body consistently is a better way to keep yourself healthy enough to reach your career goals and be present to enjoy them. If you're struggling to overcome thoughts that equate thinness with success, you're not alone. Take a step and ask for help before things get worse. Whether you're a fashion designer, a father, a teacher, or an artist, you deserve to be free of food and weight obsession.
---
"ROMY AND MICHELLE'S HIGH SCHOOL REUNION"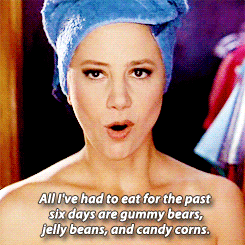 Romy and Mishelle share all sorts of diet obsessed banter in this movie, including this extremely dangerous quip. Reality Check: Candy is delicious, but it doesn't provide nearly enough energy on its own for everything your amazing body does each day. All foods can fit in a healthy pattern of eating but one type of food on its own – whether candy or kale – can never meet all your nutritional needs. Incorporating a variety of fun and nourishing foods is best.
---
"MEAN GIRLS"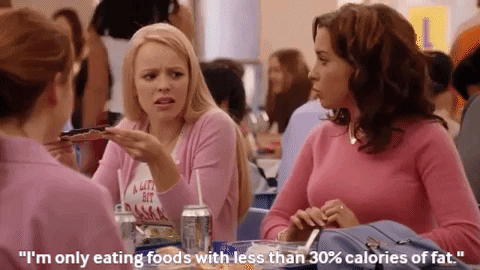 Did you know that some of the most common side effects of dieting are mood changes, depression and irritability. That could be one reason why Regina was always so negative and, quite frankly, pretty nasty to the people around her. Luckily, this movie does teach us that trying to be "perfect" can take its toll.
Did you know that perfectionism is a risk factor for the development of eating disorders?  Perfectionism can also cause you to miss out on opportunities to learn from mistakes and may ultimately get in the way of living a balanced, rewarding life.
---
"A CINDERELLA STORY"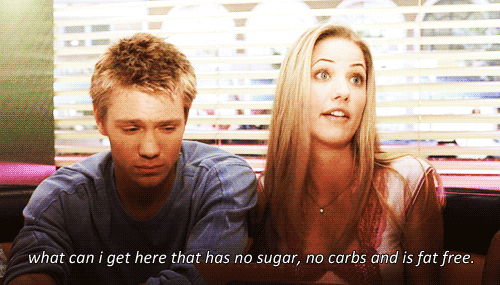 Our bodies need different nutrients to fuel them. Cutting out entire food groups or sources of energy can cause major problems for your body (and really limit your options when eating out). One of the side effects often noted by people with eating disorders is that they begin to isolate from friends and family since they no longer feel comfortable eating around other people or they literally can't find anything on the menu that fulfills the "rules".
Social isolation can lead to all sorts of other diffculties and can worsen depression and anxiety. If you've noticed that you or a friend are retreating from meals or other previously enjoyed activities it might be time to seek support.
---
"ZOOLANDER"
Derek and Hansel are misinformed when it comes to losing weight. The fact is, purging is not an effective way to lose weight or prevent weight gain. In fact, over time, purging behaviors are associated with weight gain (and a whole host of serious medical consequences). On top pf being misinformed, the characters explode in laughter when Matilda opens up to them about her own history with bulimia.
This is obviously a comedy but it's still important to remind ourselves while watching that purging is NEVER funny and purging is never a safe behavior. Don't be like Derek and Hansel. If a friend shares with you that she or he is struggling, take it seriosly. If you need resources to help a friend, check out the Let's Check In Discussion Guide.
---
"CLUELESS"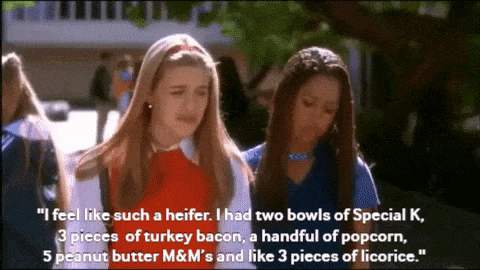 Cher and her friends engage in awful lot of weight shaming, diet talk and appearance bashing throughout this movie. (It's actually hard to find a single scene without it).
Critical body talk and weight shaming – even when self-directed – has a lot of negative consequences. When you criticize your own body, it impacts you and the people around you negatively, making everyone more distracted by and less accepting of their own appearance.
Our thoughts affect our feelings and behaviors so it's important to learn how to curb negative self-talk and practice saying kind things to yourself. Remember, your vibe attracts your tribe. Work on body acceptance and you'll be more likely to attract friends who are body positive too.
---
"BRING IT ON" 
Sports have the power to promote self-esteem but not with a coach like Sparky Polastri who flat out disparages bodies and encourages restrictive eating disorders among his athletes.  Any coach who puts an emphasis on weight is bad news for the whole squad.
Not eating enough to fuel your workout can reduce strength, speed, and stamina and lead to increased risk of injury from things like stress fractures, fainting and muscle cramps – not what you want when you're on top or bottom of the pyramid!
Sparky's advice is way off; athletes burn a lot of energy through their training, so they actually need to eat more than non-athletes to properly fuel their bodies. Never be afraid to get a second opinion if a coach is steering you wrong.
---
"PITCH PERFECT"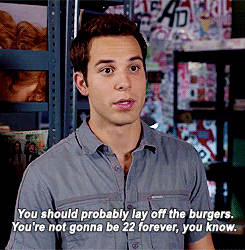 Food shaming is ALL AROUND US in the movies and in real life so we get pretty used to hearing stuff like this. Something you think is a harmless joke about what someone is eating might actually have major repercussions for them.
We never know how the people around us feel about food or their bodies, so it's best not to make offhand comments about what they should or shouldn't be eating. Also, burgers are great and can be enjoyable and nourishing at any age!
---
"LITTLE MISS SUNSHINE"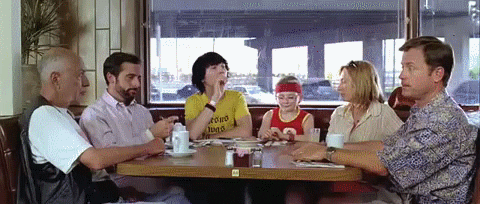 Did anyone else's heart break a little when Richard told Olive that ice cream would make her fat? In real life, instilling a fear of fatness does not keep kids (or adults for that matter) from gaining weight, but it can contribute to negative body image and disordered eating, including bingeing on foods that are deemed by adults to be forbidden or off-limits.
A better message for kids? All bodies are good bodies and it's OK to enjoy a variety of different foods. You might also want to check out these other 8 tips for raising body positive kids (who are also competent eaters).
---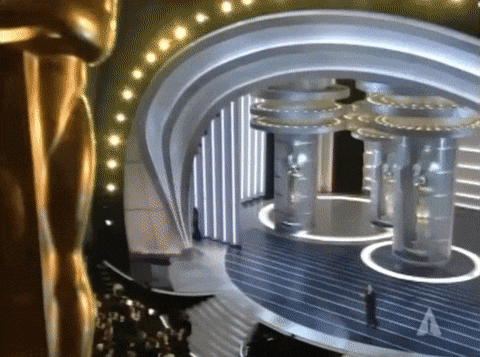 As you watch the Oscars and other awards shows this season, let's cheer on the great acting and fun story lines while also keeping in mind how popular films – even comedies and parodies – can influence our own thoughts and expectations regarding food, weight and eating.
Join the conversation with us on social media using #popcultureED.
If you've had an eating disorder in the past or are in the early stages of recovery, sometimes it helps to have a specific support plan for watching potentially triggering or body shaming movies. Read more about that here: How to stay recovery-focused when interacting with triggering media
Don't forget, eating disorders are serious and risky if untreated. The first step is awareness; If you suspect that you or someone you know has an eating disorder, visit  eatingdisorder.org or call 410-938-5252 for a free phone assessment.