2010 has been one of the busiest community outreach years to date here at The Center for Eating Disorders.  We are very glad to have welcomed many of you to our events for the first time.  In addition to providing requested trainings and workshops in the community CED also hosted five major community events on the Sheppard Pratt campus.  These are just a few of the many highlights from the past year…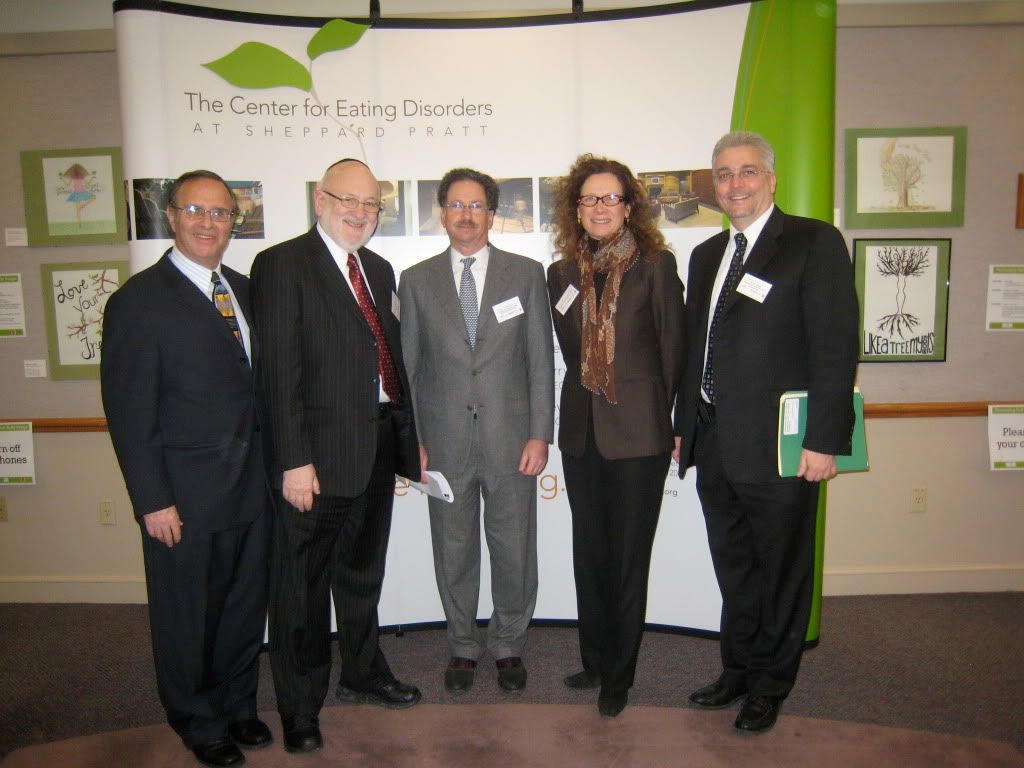 In January of 2010 CED kicked-off the year with a day long conference  entitled, Promoting Self-Esteem & Positive Body Image: A Program for the Jewish Community. Despite a lingering snow storm, over 100 community members attended including parents and adolescents, educators and school staff, medical and mental health providers as well as rabbis and Jewish community leaders from Baltimore and surrounding areas.
One month later we celebrated National Eating Disorder Awareness Week with a keynote presentation by author and parenting expert Rosalind Wiseman.  In her talk,  Positive Parenting for a Healthy Self-Image, she spoke candidly about relating to kids and adolescents in ways that build self-esteem and body confidence.  That same week in
February, we honored student artists from across the state of Maryland at the annual "Love Your Tree" poster art exhibit and awards ceremony. Bel Air High School Freshman, Kiley Baker was honored as her original artwork was unveiled as the official 2010 Love Your Tree poster. More than 130 art pieces were on display and over $1,200 in scholarships and prizes were awarded to participating students and teachers. (Don't forget: the deadline for this year's LYT Poster campaign is Dec. 17th, 2010!!!)
Before NEDAWeek 2010 ended, CED therapist, Craig Boas, LCSW  facilitated a community workshop called Mindfulness 101: An Experiential Exploration of DBT Practices for Eating Disorder Recovery and Everyday Life. In addition to these local events, we also launched a blog series called Nurture:  A mind and body wellness blog for moms and mothers-to-be. The blog entries helped to provide support around issues of fertility & pregnancy, eating disorders, body image, media and motherhood.  

In August of 2010, we were honored to host a community presentation by author and parent, Harriet Brown the very  day after the release of her book, Brave Girl Eating: A Family's Struggle With Anorexia. Her talk was inspirational for the many parents and professionals in the audience and stimulated much discussion about Family-Based Treatment (FBT).  The Center for Eating Disorders is one of a small number of sites across the country that has clinicians who are specially trained and certified to provide FBT for eating disorders.

We switched gears in September 2010 for a focus on continuing professional education
for providers.  Five eating disorder treatment experts from across the country converged in Baltimore to present at CED's professional symposium, Eating Disorders: State of the Art Treatment.  Almost 200 physicians, nurses, psychologists, social workers, dietitians and other treating professionals attended the day long conference to learn about topics such as Family-Based Treatment for EDs, Psychopharmacology and Cognitive Remediation Therapy.  Several of our expert presenters provided guest blogs for us in advance of the symposium.  You can read them by clicking on the links below:
Several days after the symposium, CED staff members, including CED Associate Director, Dr. Steven Crawford, teamed up with fellow advocates from across the country on Capitol Hill to take part in a Lobby Day organized by The Eating Disorder Coalition (EDC).  We spent time meeting with Maryland representatives in congress and senate, discussing how important it is for them to sign on in support of the FREED Act.  It was an empowering day and CED is looking forward to being a continuing sponsor of the EDC in the new year.
Most recently we were incredibly excited to host our fall outreach event,  Intuitive Eating: Making Peace
With Food,  featuring Evelyn Tribole, MS, RD, a nationally acclaimed nutrition expert and bestselling author.  There was a tremendous response from the community, and over 200 people from across Maryland and surrounding states converged in Towson on November 21st to hear Ms. Tribole's engaging presentation.  After the talk, many attendees lined up to speak with her personally about their stories of success with Intuitive Eating.  If you missed the presentation, check out the pre-event Q & A with Evelyn Tribole on our blog.
Many thanks to all who have attended and collaborated around these events.  As we move towards 2011 and a new year we maintain a commitment to providing events and outreach opportunities with the following goals:
Increase awareness about the growing prevalence of eating disorders and their consequences
Provide opportunities to help individuals, families, schools and organizations prevent eating disorders and promote positive body image
Encourage early intervention and improve access to care while decreasing stigma associated with seeking help
Support individuals and families throughout the recovery process
Enhance professional knowledge and competency through continuing education events for medical and mental health providers
Upcoming community outreach events: